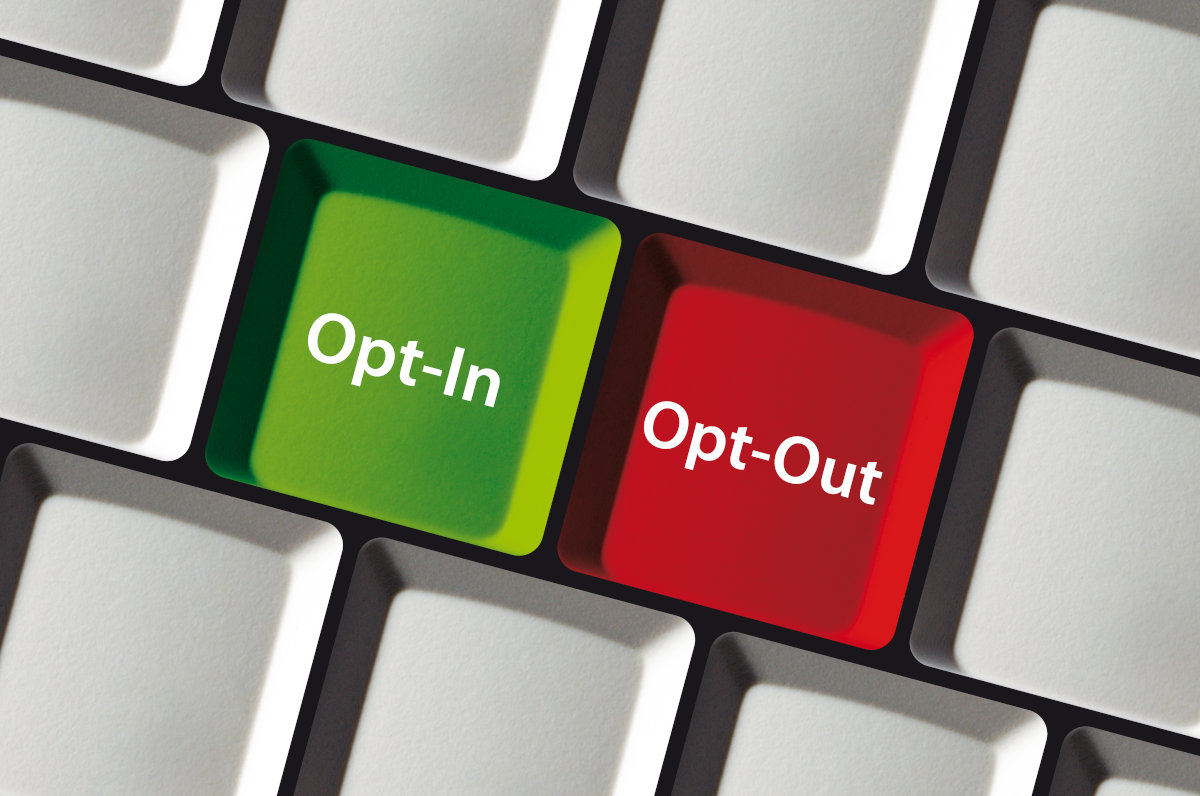 As we all know, email is one of the most effective ways to communicate messages with audiences at all stages of the customer-buyer journey.
In fact, according to a 2022 article, 73% of businesses prefer communicating with customers over email.
However, there's a problem with this: the sheer volume of emails flooding people's inboxes every day! For some, an opt-out email template can be a Godsend if, of course, an email doesn't immediately affect what you're doing.
What happens to all those unsubscribes? Do they become just another email lost to time? They don't have to. In fact, you can turn your unsubscribes into a marketing lead when you know how.
Simplelists can help show you how to use opt-out email templates to your advantage.
What is an Opt-out email?
Email opt-out is an important part of any email marketing strategy, and allows individuals to remove themselves from a mailing list. Simply put, after they opt out, all emails from the company will stop.
By choosing to unsubscribe from emails individuals stop receiving unwanted emails. Senders can easily identify who's interested in the company, enjoying what they're offering or not. This safeguards companies and organizations against any backlash that could negatively affect their brand reputation, whilst cultivating a list of happy, engaged prospects and customers.
Opt-out emails also allow senders to keep their email lists up-to-date. This means they can target only people who are interested in who they are and what they're offering.
Anyone sending CEM (commercial electronic messages) MUST provide an unsubscribe option according to GDPR, C-SPAM, and CASL guidelines.
Why should I use Opt-out email templates?
An opt-out email template is a great way to get people who have already opted out to change their minds and rejoin your list. They also make it easy for people who haven't opted out to do so. Let's not forget, it's also a legal requirement.
An email opt-out also allows senders to get their message across quickly and efficiently. They can also create a better experience for subscribers - and a better response rate.
Using an opt-out email template also gives senders more control over their emails, allowing them to personalize their content to specific audiences.
But what if recipients opted out by accident? Don't worry, you can also have opt-in email templates which are a great way to manage a growing email list. This gives subscribers the chance to re-engage, be interested in your brand, and aren't automatically forgotten at the bottom of an unsubscribe page. They can help senders to cultivate a more rounded list of prospects and customers and know exactly who wants to be hearing from them.
Don't forget also that to meet all GDPR, you need to provide an unsubscribe option when sending emails to prospects and customers.
What to include in an opt-out email?
No business wants to lose email subscribers. But sometimes holding onto a bunch of subscribers with little to no interest in who you are and what you do can be a hindrance rather than a help.
Giving people the option to confirm if they want to unsubscribe and giving them the option of when and how they want to hear from and communicate with you and your brand shows a greater understanding of their needs.
Instead of a generic opt-out email, a better way to communicate is to personalize an opt-out email template that's personal, specific to your brand!
A good opt-out email template should include:
A clear subject line that includes the words "Opt-out Email"
The reader's name in the intro, for example, "Hi Joe"
Copy that's short, sweet, and to the point
Essential information about why you're writing the email, what you want to achieve, and why the opt-out email is important to you and the recipient
Mention that once they choose to unsubscribe from emails they'll be removed from the list - highlight that this is their last chance!
Include a clear CTA, like "Click here to unsubscribe" or "Update your preferences" so recipients can easily opt-out
7 Opt-out email templates
An Opt-out email template is the best way to end subscriber relationships in the most professional, pleasant ways possible. Therefore, how you choose to word it is paramount. After all, you never know when the relationship may be beneficial to resurrect.
Below are the tried and tested ways of ending your relationship with prospects and customers, whilst remaining hopeful that your relationship can, perhaps, continue at a later date.
1. The "Hey" email
The "Hey" opt-out email template is a simple, friendly way to send prospects and customers an email opt-out of future emails.
Remember to keep the email short, sweet, and to the point. Ask if there's anything that you could have done better and be sure to say that you understand if they truly want to opt out.
1. The "We Will Miss You" email
If you want to be a little more personable, the "We Will Miss You" email is a good option. Keep the email tone sincere, be sure to express that you don't want to say goodbye to the subscriber and leave the door open for them to return.
3. The "What Happened?" email
Interested in learning why prospects or subscribers are no longer interested in you? Then choose the "What Happened" email. Ask if there's anything you can do to win back their trust and explain that you will prevent the reason for their leaving if they decide not to opt out.
4. The "Here's what we can fix" email
This email is less about the why or how to unsubscribe to emails, not asking for feedback or adding a clear CTA, and more about promising you'll make sure that the reason subscribers opted out will be remedied, nullifying any issue.
Ask if their opting out was a mistake. Tell subscribers that you'll do what you can to improve your content and be sure to give them an option of being contacted or not.
5. The "It Was Not Intended to be Personal" email
Choose the "It Was Not Intended to be Personal" email if you want to take a delicate approach to winning back subscribers who have opted out. Ask if the emails were too frequent or not to their liking, be honest and apologize, say that you'll reduce the volume of emails, or amend the content and give recipients the option of the frequency and nature of the content they want to receive.
6. The" We're Sorry!" email
Taking the opt-out email template "It Was Not Intended to be Personal" a step further, the "We're Sorry" email expresses apologies for something you may have done to frustrate or annoy those on your email list.
Be sure to apologize to recipients and tell recipients that whatever has frustrated or annoyed them won't happen again. End with a request inviting them to remain a subscriber.
7. The "Your Not Alone" email
The last email is one that injects a bit of dry humor. Explain that many people have unsubscribed and joke that they can learn from their mistakes and recipients can get back on track if they just hit that "subscribe" button.
Tell recipients that remaining subscribed will save them the hassle of signing up again later. End the email with a CTA to confirm their intention to unsubscribe or return at a later date.
Tools that help you create Opt-out emails
There are a great many online tools that can help you to create opt-out emails. From designing a complete unsubscribe page from scratch to email opt-out editors, you're not short of options. The problem is which do you choose!
When looking for the best email opt-out tool for you, there are a handful of things to consider. These are whether the tool:
Has a drag-and-drop editor
Has a library or ready-made email templates
Can offer advanced newsletter elements and design options
Can allow you to store and retrieve your templates efficiently
A great builder will allow you to fully customize templates and create professional-looking emails from scratch
Email template builders and editors
Don't worry if you're not an email or content whizz. There are loads of email template builders and editors that make it a cinch to create your own emails, uniquely suited to your purpose.
They all come with a FREE trial of varying lengths and a range of features. Below are some of the best:
| Email template builder/editor | Free plan/trial | Pricing | Best feature |
| --- | --- | --- | --- |
| Stripo | Yes | $15/month | Dynamic AMP validation |
| Moosend | Yes (30-day free trial) | $9/month | Advanced drag-and-drop editor |
| Constant Contact | Yes (60-day free trial) | $12/month | Branded newsletter templates |
| HubSpot | Yes | $20/month | All-in-one email builder and campaign management |
| BEE | Yes | $30/month | Email type variety |
| Chamaileon | Yes (14-day free trial) | $300/month | Advanced image editing options |
| Mailchimp | Yes | $20/month | Ready-to-use email campaigns |
| Brevo (Formerly Sendinblue) | Yes | $25/month | Responsive newsletter templates |
| ActiveCampaign | Yes (14-day free trial) | $39/month | Track template changes |
Start your email campaign right away
Whether email opt-out campaigns have been on your radar for a while or this is the first time that they've crossed your mind, make today the day that you make a change, optimize your emailing lists, and reach and influence more valuable customers than ever before.
Simplelists offers group emailing and mailing list management, with easy set-up and transfer of existing lists. With Simplelists opt-in web subscription form and unsubscribe header, members can also unsubscribe easily, whenever they want. Follow the link to get in touch with Simplelists and learn more.
Don't forget that unsubscribes should be treated like any other lead. Providing a personalized email opt-out demonstrates value, can increase your open rate, and gives members the opportunity to give feedback, even convincing some members that opting out may not be the best option.