Distribute converting content through an easy email list management software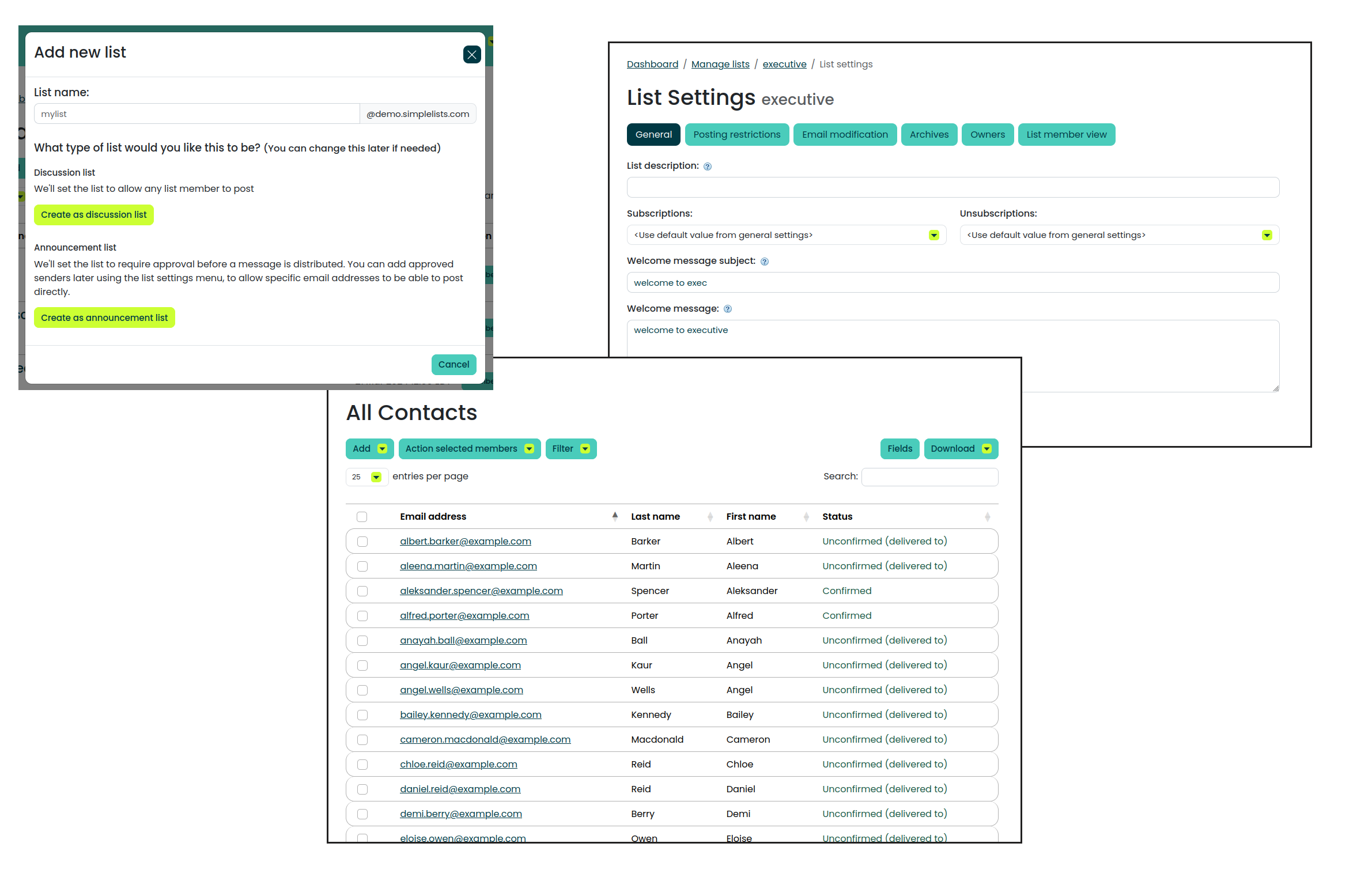 Simplelists Email Listserv: Your Conversion Ally
Reaching your audience and getting them to take action is hard.
And growing your email list subscription to expand your business feels even harder when you haven't the time, energy or resources.
Simplelists gives you the email listserv platform you need to communicate with your audience efficiently.
Not sure what listserv hosting can do for you? Find out how Simplelists can help your business grow with higher conversions
User self-subscription
As a company, it's important you confirm you're only distributing content to individuals who want to receive it.
With Simplelists the tried and tested double opt-in system, self-subscription saves you the hassle of dealing with bounced emails or being reported as spam.
Using this option, before members are added to any list, they must confirm their email address to show that they want to be part of the email list subscription.
This can be done when adding a member, or once the member has been added to your address book
Once confirmation is complete, a green tick next to their name in the address book will indicate an active member.
It's also possible to add members directly if you are transferring from another service or if you have an alternative method of confirming individuals want to receive your emails. Contact us for more information.
Easy unsubscribe from mailing list
Most customers feel so frustrated by current unsubscribe methods.
As a conscientious list owner, you want to do right by your customers and adhere to GDPR legislation.
Simplelists integrates with any website. You can quickly add an on-screen form for your customers to easily unsubscribe from mailing lists. Or if required, can be hosted by Simplelists.
All our lists feature the List-Unsubscribe Header which can be displayed as a one-click link for users to click on and unsubscribe.
Moderated list
Managing an online community can be challenging.
There are a lot of people, and with more coming, all the time, managing their requests, posts, and comments is very time-consuming.
You need email list management software that can automatically moderate and manage your email listserv for you.
Simplelists tackles this problem head-on. Any list can be configured to define which messages will be distributed straight to the list and which will be held for approval.
Decide whether you want all messages to be moderated, allow specific members, or even define the maximum message size.
Email archive search
Agonising over finding a specific email from months and months ago, but have no idea what you're looking for?
With so many forms of communication, it can be hard to keep track of everything. Our application offers a simple solution.
Simplelists listserv hosting allows you to search archive emails quickly and easily.
Searchable web archives are available for all lists at no extra cost, plus, they can be customized and password protected.
Email list management
Not managing your email listserv effectively can cause you to lose business.
How?
By not sending out the right emails to the right people.
With Simplelists mailing list software, you can create, segment, connect, clean, and manage followers lists easily.
This ensures you send your customers and clients the right messages at the right time about your new products or services and enhances your brand's influence.
Are you looking for an easy-to-use listserv hosting and mailing list software?
Click on the link to get Simplelists
FAQs
What our customers say
"Simplelists is an amazing tool that is very fast and efficient. The company is incredible to work with."
Listserv hosting trusted and used by: