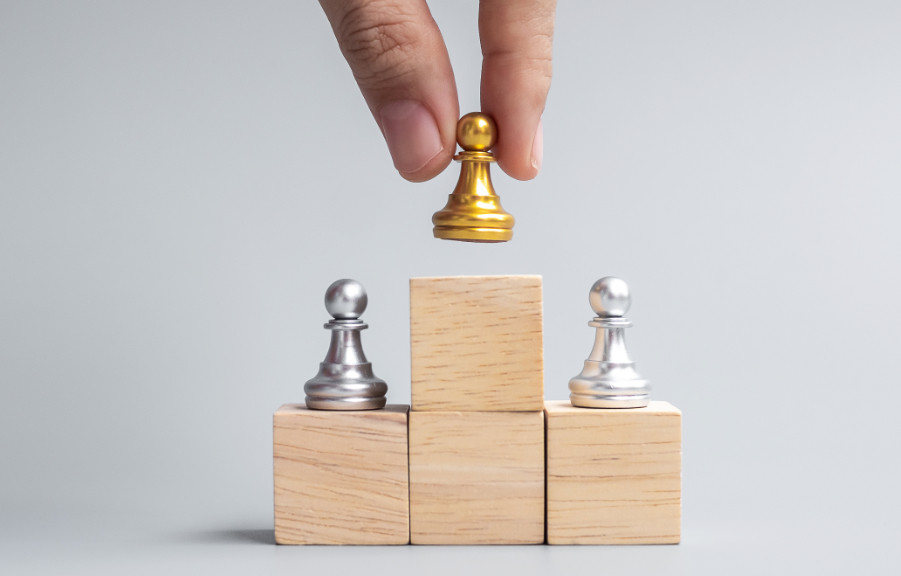 Despite the developments in social media platforms and project management tools over the last decade, email is still the king of business communications.
It's estimated that 90% of businesses use email as their primary channel of internal communication. And according to stats from Oberlo, more than three-quarters of small businesses claim that email is their most successful marketing acquisition channel.
However, choosing the best email service for business and deciding on the right supporting list management tools can have a significant impact on your email success.
What is an email service provider?
In the most basic terms, an email service provider (or ESP for short) is a company that takes care of delivering your emails to their intended recipients.
Sounds simple, right?
It's made a little more complicated by the fact that 'email service provider' is used as a bit of a catch-all term to describe different types of email services that have different purposes.
Some ESPs specialize in the delivery of everyday email communications, like emails to people within your business or day-to-day emails you have with clients or other contacts. They are designed to make it easy to send, receive and manage email in your personal inbox.
There are also ESPs that specialize in sending emails en-masse. These are sometimes referred to as marketing ESPs, and they are designed to make it easy to reach a wide audience with your email messages. These types of email services often have the functionality to help personalize content and commonly boast more advanced reporting to help marketers understand things like open rate, click-through rate, and the parts of their emails that their audience engages with the most.
Simplelists: A great enhancement to your everyday email services
Sometimes the email services that businesses use for their everyday communications can be limited in their capabilities.
They provide the interface and functionality that makes it easy to send and receive 1-1 emails, but what if you want to send emails to a large group of people without having to invest in a marketing ESP?
Or, what if you want to have collaborative group discussions via email, with an easy-to-search archive of contributions?
Simplelists makes this easy.
In our easy-to-use interface, you can set up unlimited mailing lists with large numbers of recipients. Each mailing list has its own unique list mailing address.
By sending a single email from your everyday email services to your chosen list mailing address, you can reach a wide number of recipients quickly and easily.
It's like having the major benefit of a marketing ESP without the hefty price tag.
Additional functionality that comes with Simplelists is the ability to set up group email discussion lists, which encourages all recipients in a list to share information and collaborate.
The great news is that no matter which email services your business uses, Simplelists can work alongside it and enhance it.
You're possibly thinking "What is the best email service for business?" This is a tough question as it all depends on the specific needs of your business. But to help you along the way, we've put together a list of the 7 most popular email providers with our customers.
Top 7 email services for business
1. Gmail / Google Workspace
Gmail is one of the most commonly used personal email services in the world with more than 1.8 billion users across the globe.
But it's also gaining a reputation as perhaps the best email service for business.
Google Workspace is a cloud-based platform with a whole suite of tools for businesses of all sizes. By signing up to Workspace, you're able to use Gmail with your own business address.
One of the main benefits of using Google Workspace for your email services is that it integrates easily with other Google apps such as Drive, Sheets, Docs, and Forms.
There's also a wide range of different plans to suit the needs of all types of businesses. The starter plan offers 30GB of storage per user from only $6 per user, per month. For larger organizations that need more storage and more advanced security and functionality, the Business Plus plan starts from $18 per user, per month.
Find out more at: https://workspace.google.com/intl/en_us/pricing.html
List of Pros:
It packs lots of valuable features
Easy to set up and use
Integration with other Google apps such as Google Docs, Drive, and Calendar
Ample storage limits
Solid security features and controls
List of Cons:
For larger businesses, pricier than some other solutions in our list
Google app integrations are only useful if your business fully embraces Google Workspace
2. Outlook / Microsoft 365
Outlook has historically been one of the most popular email providers for businesses, but it's facing stiff competition from some of the other solutions in this list.
One of the major plus points that Outlook has is its familiarity for business users. If you've been in business for any length of time, there's a high chance that you've used Outlook for managing your emails at some point.
Great features such as a focused inbox and powerful tools to help organize your emails make Outlook a great choice for busy business professionals and supports its reputation as perhaps the best email service for business.
Outlook is also part of Microsoft 365, which means that it integrates and works nicely alongside other Microsoft products such as Word, Excel, Powerpoint, and OneDrive.
Similar to Google Workspace, Microsoft 365 has a variety of plans to suit the budgets of organizations of all sizes. Their basic account starts from $6 per user, per month, and rises to $22 per user, per month for businesses that need premium services and advanced security.
Find out more at: https://www.microsoft.com/en-us/microsoft-365/business/compare-all-microsoft-365-business-products
List of Pros:
The interface is familiar for a lot of business users
Effective in-built calendar
Integrates with other Microsoft365 products
Great tools to help prioritize and organize emails
Intuitive attachment features
List of Cons:
Limited customization compared with Google Workspace
An annual commitment is required
Monthly costs are higher than other solutions on this list
3. ProtonMail
If security is important to your business, you might consider ProtonMail as one of the safest email providers on our list. Developed by MIT scientists and governed by Swiss privacy laws, one of the key benefits of this email service provider is that all messages are secured by end-to-end encryption.
ProtonMail has a supporting calendar and drive, and starts from as little as €6.49 per user, per month for their essentials plan, rising to €9.99 per user, per month for their premium offering.
Find out more at: https://proton.me/business/plans
List of Pros:
Market leading privacy features
Intuitive and easy to use
Free VPN
Easy to schedule emails
List of Cons:
Limited options to organize emails
Limited storage options, even on paid plans
4. Zoho Mail
For businesses looking for affordable and effective email services, Zoho is a solution to consider.
In addition to providing an effective and affordable email solution, Zoho Mail also has a free suite of tools designed to improve productivity which includes a calendar, contacts, tasks, notes, and bookmarks.
Zoho Mail has a lot of helpful features to secure its place in this list of the best email services for business. It assists in keeping on top of your email efforts, such as the ability to create folders, labels, and filter your emails. It's also super easy to set up email templates and out-of-office autoresponders.
Zoho doesn't have a monthly payment option, and you need to be billed annually - which might be off-putting to some businesses. But their prices are incredibly affordable, starting from only €0.90 per user/per month for their Mail Lite plan, and rising to €3 per user / per month for their premium workplace plan which includes a wide range of other tools to complement Zoho Mail.
Find out more at: https://www.zoho.com/mail/
List of Pros:
Great value for money
Additional tools for managing notes, bookmarks, and contacts
Effective tools for organizing your emails
List of Cons:
No monthly contracts
Small storage limits on the lower-tier plan
5. iCloud Mail
If you're part of the Apple ecosystem, you'll probably already have your dedicated iCloud email account which provides free email services. It probably looks something like "name@icloud.com".
By upgrading to an iCloud+ account, you can actually use iCloud Mail with a custom domain for your business, such as name@yourcompany.com.
iCloud Mail has a variety of benefits such as the ability to effectively organize and filter your email and also boasts an easy way to create email aliases for your main account.
It seamlessly integrates with macOS and iOS, which makes it one of the best email providers if your organization is already using Apple machines.
Find out more at: https://www.icloud.com/mail
List of Pros:
Simple interface and set-up
Optimized for mobile usage
Smoothly integrated into macOS and iOS
Great for managing spam
Easy to remove yourself from unwanted email lists
List of Cons:
Limited storage space
Extra storage space can be expensive
Not ideal for email services unless your business is invested in the Apple ecosystem
6. Icewarp
A lesser known, lesser used but worthy addition to our list of best email providers is Icewarp.
Icewarp positions itself as the best email service for a business looking for an affordable alternative to Google and Microsoft. It packs a full suite of tools for managing documents, team chats, video recordings, file management, and email.
The email functionality in Icewarp is simple but intuitive. Pricing starts from as little as $3.50 per user per month for their cloud-based solution, and $7.00 per month for their desktop application.
Find out more at: https://www.icewarp.com/
List of Pros:
Lots of additional functionality
Easy to configure and set up
Affordable compared to Google and Microsoft solutions
Intuitive user interface
List of Cons:
Limited mailing list features
Unfamiliar for many business users
7. HubSpot
Okay - you caught us! This one is a bit of an outlier.
HubSpot is actually more of a marketing ESP, which is great if you're going to be designing, personalizing, sending, and analyzing your marketing emails (it has an amazing drag-and-drop editor for creating marketing emails). But it isn't an 'everyday' ESP per se.
However, if you're already using HubSpot as your CRM, you might consider using their connected email solution.
It integrates with your existing email services and allows you to use an email service you're familiar with, at the same time as keeping track of all the emails that colleagues across your business have sent a particular contact within your CRM.
And the best part? If you're an existing HubSpot user - it's completely free to get started, with additional functionality for a small fee.
Find out more at: https://www.hubspot.com/products/email-integration
List of Pros:
Keep track of customer conversations
Easily integrate with your CRM
Improve productivity and collaboration across your business
List of Cons:
Not really an everyday ESP!
Choosing the right email service provider for your business
There is a wide range of different email services that can help your business with your everyday email needs.
The list of best email providers in this article is by no means exhaustive - it's just the solutions we know our clients have found success with.
It's really tough to determine what email service is the best - It's important to evaluate the pros and cons of each ESP and evaluate how they align with the needs of your business.
Whichever email services you choose for your daily business needs, you can rest assured that Simplelists will be able to enhance its functionality by reaching large numbers of recipients with one email and facilitating group email discussions.
If you'd like to see for yourself how easy Simplelists is to set up with your own ESP, sign up for our free one month trial.