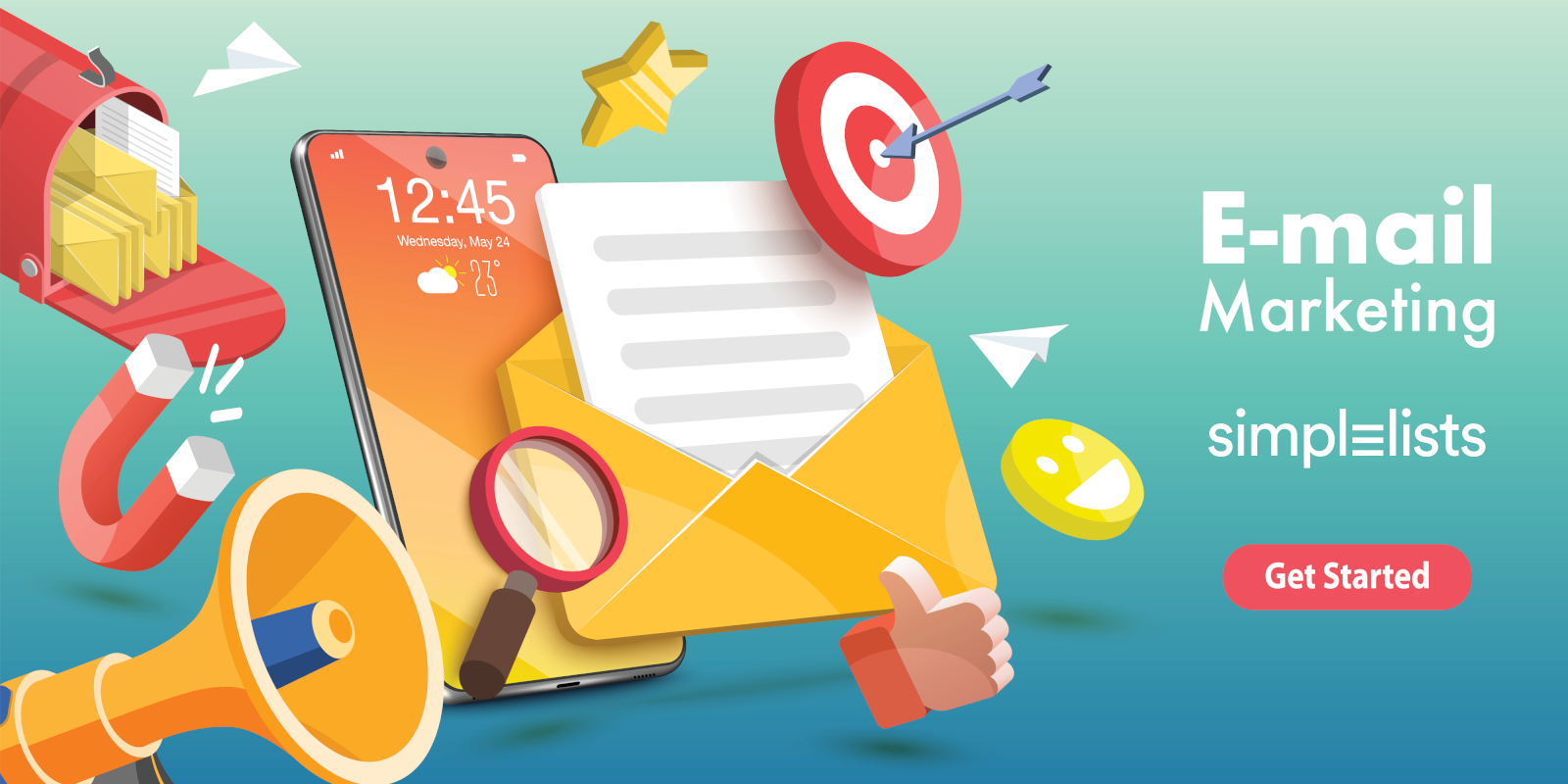 In the digital communication landscape, email is one of the most traditional channels.
Nonetheless, in recent years, an increasing number of people have questioned whether email is still so necessary – or could be potentially replaced with less time-consuming marketing tactics.
Indeed, several new forms of communication have emerged over the years, mostly in the social media landscape, where the automation tools appear to be more user-friendly and simple-to-use than designing a lead generation and email marketing strategy from scratch.
Despite this, email marketing continues to grow in popularity and is a sure bet for ROI success.
Consider this: for every dollar spent on email marketing, you can expect an average ROI of $40 (source: Omnisend)!
However, approaching an email marketing campaign – particularly a group email one – without relying on a powerful mailing list tool can force you to deal with security, GDPR, and management issues that can seriously undermine your efforts and results.
This is why today we'll look at:
What email marketing really entails in today's business landscape;
The key advantages of an effective email marketing strategy – such as the possibility to segment your target audience and personalize your message;
How a user-friendly and powerful email marketing tool, such as Simplelists, can make the difference.
Let's investigate further!
What is email marketing?
Email marketing, in a nutshell, is a digital marketing strategy that entails sending emails to a specific group of people to promote a newsletter, event, offer, product, or service.
Consider that by 2025, the number of email users worldwide is expected to reach 4.6 billion (source: Statista) – accounting for more than half of the world population, – with over 375 billion emails expected to be sent and received each day.
That's why, to make the most of it, businesses typically create a list of email addresses collected via ad hoc lead generation forms, in order to:
Efficiently track and analyze their efforts, including using the right automation tools;
Better understand their target audience;
Focus on consent, segmentation, and personalization, abandoning the outdated outbound approach.
Nevertheless, email marketing can't be a stand-alone tactic, but rather a component of a larger marketing strategy that includes other channels – such as pay-per-click, SEO, and social media.
So, let's quickly compare a few different channels:
Social Media Marketing: Social media allows businesses to interact and build relationships with their potential customers, but the competition is fierce. Their ROI varies depending on the platforms' algorithm, but it is typically $2.80.
Search Engine Optimization: With a ROI of $22.24, SEO is an essential tool for any business, because ranking higher on search engines means being more easily found by the potential customers.
Pay-per-click Advertising: PPC ads have an average ROI of about $17 and they help businesses leverage their search engine visibility. However, this is not a one-to-one channel, but rather an advertising tactic. Indeed, 64% of people believe that basic ads are frequently intrusive and annoying (Source: Optinmonster).
Email Marketing: With a stunning ROI of $40, email offers a better conversion rate than any social media channel, as well as a higher degree of personalization and audience segmentation. In the long run, in fact, an email strategy helps building a community of loyal customers and is the most profitable and cost-effective direct marketing channel for moving customers through the purchasing cycle.
As you can see, email is still the most effective digital marketing channel, and a combination of SEO, social, PPC, and email marketing can really help you easily build the most powerful digital marketing strategy – where email can enhance all the other channels, allowing you to retain and communicate with your customers individually.
Let's take a closer look at the key email marketing benefits!
4 Major Email Marketing Benefits
Personalized Targeting
Have you ever felt frustrated and overwhelmed while attempting to segment your target audience and personalize their message?
A non-personalized approach – whether through ads, messages, or posts – can have a negative impact on your marketing strategy and result in:
Lower engagement and conversion rates, as you won't be able to address your potential leads' specific needs, making it difficult to pique their interest and convert them into customers.
Higher costs, because a one-size-fits-all approach would necessitate more resources to reach a broader audience;
Inefficient customer loyalty, as personalization and segmentation are the foundations for building a relationship with customers.
So, why can a proper email marketing strategy – with the help of an efficient email marketing software – help you avoid such risks?
The answer is simple: The key is personalization, which is at the heart of mail marketing.
People, in fact, appreciate it when brands add personal touches to their messages – and email marketing, by definition, allows you to segment your target audience into specific lists that are based on different demographic or psychographic criteria, as well as easily get direct feedback.
A personalized email strategy, in fact, can drive more conversions than any other digital channel – with 66% of online consumers making a purchase as a result of an email marketing message (source: Monetate) – and it is much more efficient if it's based on a well segmented opted-in list.
You might think it's easier said than done at this point...
Please, hold on! If you want to segment and personalize your email lists based on various criteria, you should use an efficient email marketing platform.
We at Simplelists understand exactly how such a tool can make a difference for businesses of all sizes. That's why our group email software includes features dedicated to email customization and segmentation, ranging from multiple lists management to styling.
All of these features would provide you with a full hosting service and management that eliminates the need for you to worry about technical details!
Sales and Lead Generation
As above-mentioned, email marketing clearly has enormous potential for enhancing sales and driving lead generation.
Indeed, if you rely solely on social media or search ads to increase sales, you should be aware that while these channels can help you attract new visitors – and reach a larger number of people at once, – they cannot always help you retain customers or nurture relationships with them.
On the other hand, email would give your company a direct channel to reach out to potential customers and nurture the relationship throughout every stage of the buyer's journey.
To name a few, email marketing can help you leverage sales in the following ways:
Generating new leads through the creation of a well-structured landing page and opt-in form, allowing you to collect email addresses from both website, social, or ads, to then build a targeted email list that can really make a difference during new product launches;
Lead nurturing and helping leads move through the sales funnel by sending them highly targeted and personalized messages based on their interests and purchase habits, such as special birthday offers, welcome discounts, or abandoned cart emails, in order to create a one-to-one relationship and stimulate the brand loyalty;
Promoting new products, services, or business events through the right email campaign, including powerful calls to action and multimedia content.
As you can see, there are numerous approaches to driving sales through email marketing.
However, all of them would benefit greatly from using an email list management tool like Simplelists.
As a matter of fact, there are several technical details that can make you waste time and effort when segmenting and personalizing your email strategy, going from the design of landing pages to email footers, and email moderation.
What our clients appreciate most about our simple tool is that it allows them to quickly address all of these issues in no time by allowing them to easily customize their emails, subscription forms, footers, and even posting restrictions.
Whatever the size of your company, this can save you a lot of time and resources to devote to your sales or business strategy!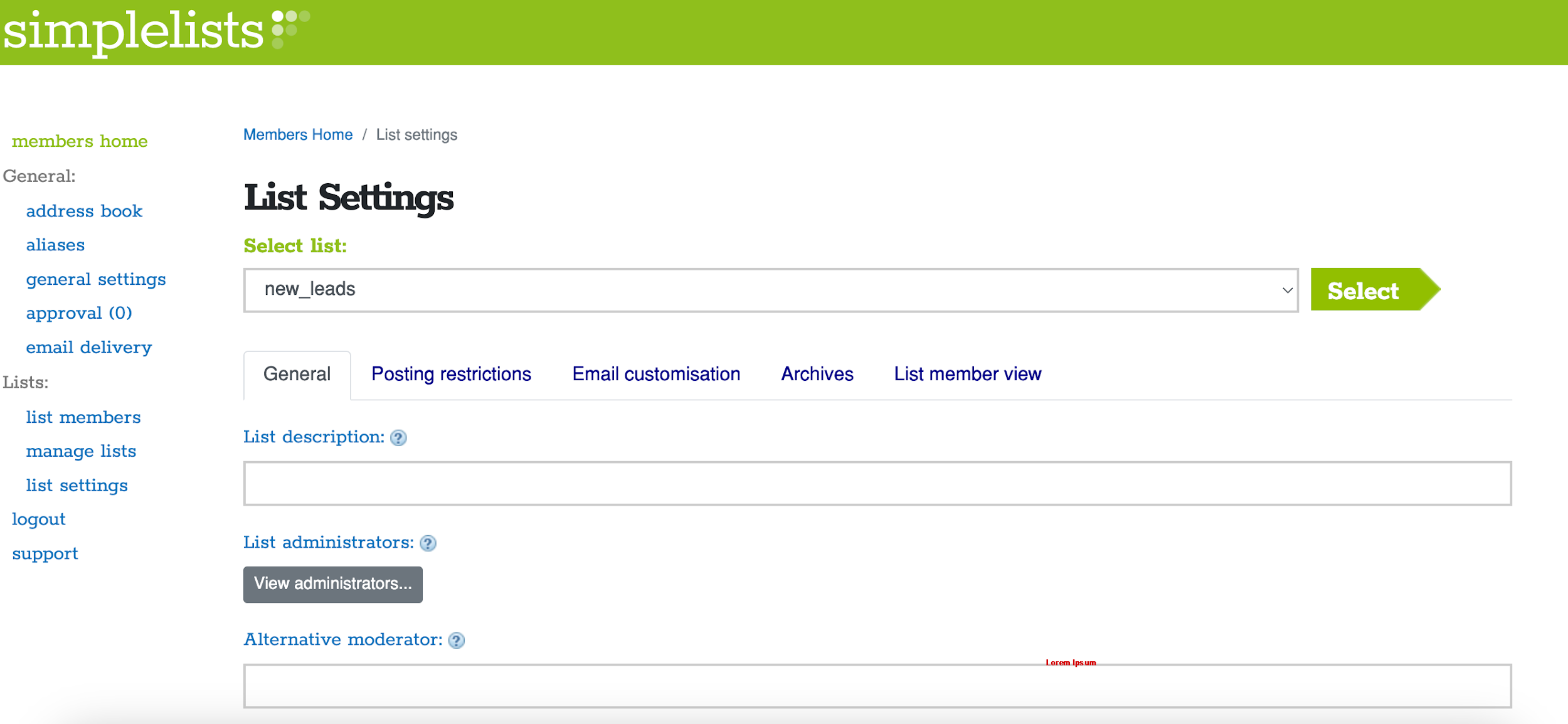 Would you like to learn more about how Simplelists can help you save time, money, and resources? Check out our YouTube channel!
Fidelization and Remarketing
Another significant advantage of email marketing is that it allows businesses to retain and engage existing customers, encouraging repeat business and driving visitors back to websites.
This is because the use of targeted and personalized offers allows for a one-to-one relationship, which gives birth to a proper customer retention and remarketing strategy that can engage customers who have previously:
Purchased your products or services;
Visited your website, blog, or landing pages;
Abandoned their online cart.
Indeed, did you know that sending three abandoned cart emails generates 69% more orders? (source: Omnisend).
However, fidelizing a customer means being present and providing a timely newsletter in order to be perceived as also an expert in your industry. In fact, retaining a customer entails more than selling products or notifying abandoned carts, but also sharing educational content.
With the right strategy, email drives customer loyalty and becomes a necessary channel to use in conjunction with:
A sales CRM system to streamline communication;
An email list management tool to speed up the email delivery process.

Timely Campaigns
Have you ever struggled to find the right channels and times to effectively reach your target audience?
This happens to almost every business.
Selecting the most appropriate channels for a specific campaign in a constantly evolving tech market can be extremely difficult and may depend on a variety of factors.
In fact, while a B2B company may find their target on LinkedIn, a B2C retailer may prefer Instagram or TikTok. However, there is one thing that all business types have in common: email marketing.
Email is unquestionably one of the digital channels that allows anyone to create a truly timely campaign to support the:
Promotion of events, including workshops and webinars;
Seasonal campaigns and product launches;
Time-limited offers, such as discounts or free shipping, which create a sense of urgency and encourages impulsive buying;
Trend-based campaigns which are based on popular topics.
Having said that, it's clear that email campaigns can help you reach the right people at the right time, providing far more value to the target audience.
Why use Simplelists for your Email Marketing Strategy?
Last but not least, we'd like to show you how Simplelists, our user-friendly email list tool, can truly help you reap the benefits of email marketing by allowing you to:
Let's take a closer look at why you should use Simplelists for email marketing!
It's user-friendly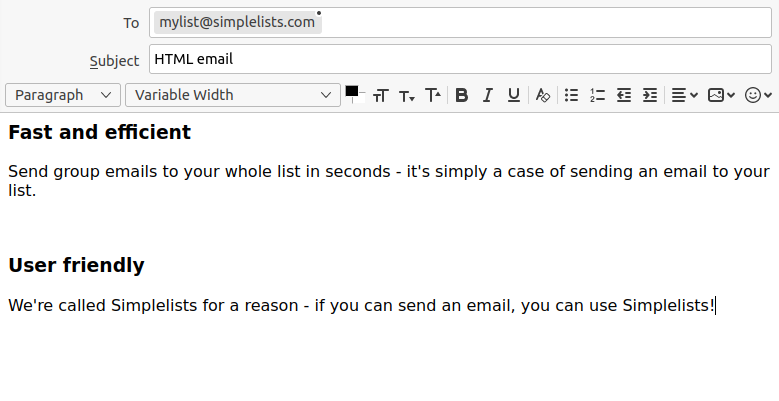 Simplelists, as the name implies, is a truly simple tool that doesn't require you to be techie to understand and use its interface.
You can simply write an email and send it to everyone on your list with a few clicks, saving you a lot of time and money, and freeing up time for other business tasks!
Keeps your emails out of spam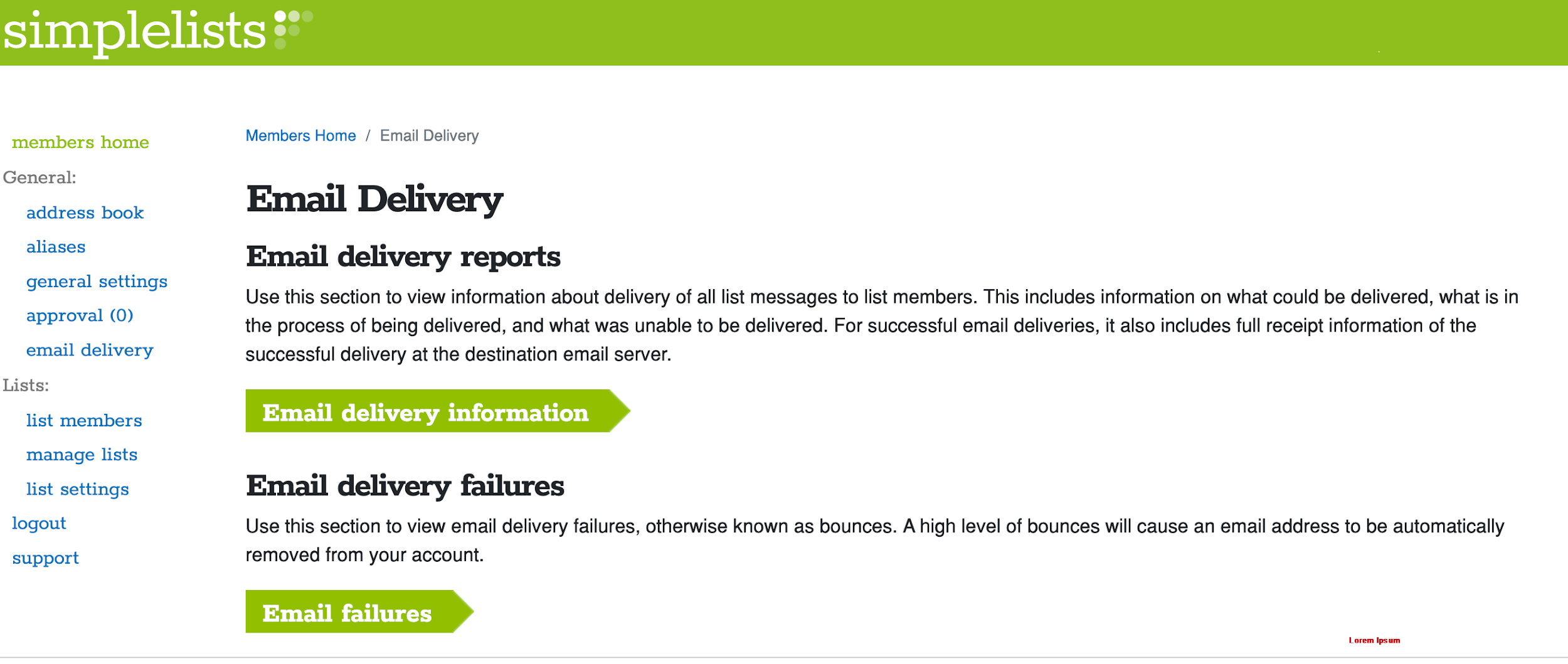 Spam filters are one of the most difficult aspects of building an email list.
Simplelists can help you avoid your marketing emails ending up in your subscribers' spam folders, assuring you a high level of list management, customization (whose low levels often leads to spam), and deliverability.
To emphasize the significance of selecting the right tool, we can tell you that segmented and effective email marketing campaigns can result in a 760% increase in overall revenue (source: DMA).
So, to ensure that you get the best results possible, our tool includes a dedicated email delivery feature that gives you access to:
Email delivery reports, which include full receipt information on successful and unsuccessful email deliveries;
Email delivery failures, which help you track all bounces and drawbacks.
No adverts!
Would you like to get rid of advertising?
This is one of the major disadvantages of using free email marketing tools or providers that typically place advertisements in your emails.
It is not only annoying, but it may cause your emails to:
Go directly to your subscribers' spam folders;
Be perceived as spammy;
Shift the focus from your content to the ads.
That is why Simplelists emails are free of advertisements and allow you to send the most professional and effective messages!
Lets you send HTML emails
Finally, another way you could use Simplelists to improve your email marketing campaigns is by designing and sending eye-catching HTML emails.
Our tool, in fact, will not limit you to the use of preset templates, but will allow you to easily customize and create your emails the way you want, so that you can:
Reflect your branding;
Gain more design control;
Send more engaging, safe, and trackable emails.
Conclusions
As we've seen today, developing a valuable marketing strategy can be difficult and time-consuming.
Emails provide numerous benefits, ranging from lead generation to remarketing and branding, but only through the use of a valuable email list tool you can make a difference for your company and achieve the desired results.
And Simplelists is here to assist you with this!
Ready to simplify your mailing list management and save a ton of time? Sign up for Simplelists one-month free trial now!