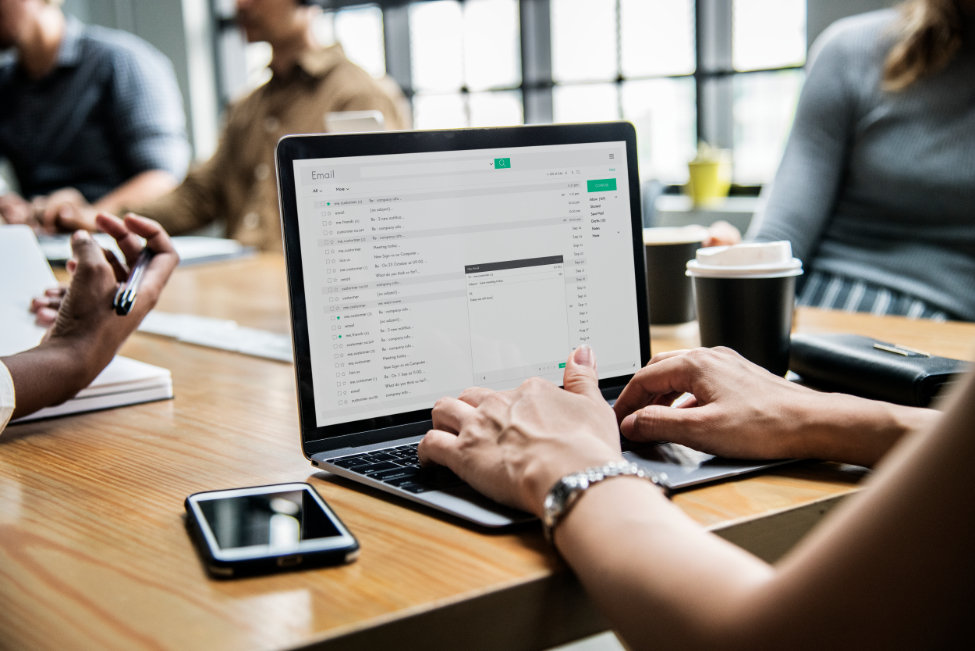 The answer is simple: To save time, money, and resources.
Email is one of the most commonly used forms of communication today. Whether it's for personal or business use, you can't escape it.
In fact, according to statistics "In 2022, businesses and consumers sent and received approximately 333.2 billion emails per day worldwide. This is projected to increase to 347.3 billion in 2023, and over 376 billion by 2025." (75 Incredible Email Statistics [2023]: How Many Emails Are Sent Per Day? – Zippia)
That's a lot of emails! And with so many being sent and received every day, it's easy to become overwhelmed with the process of managing them all — especially if you're responsible for sending them out too.
Group email services can make it easier to manage your email communications and can also help you manage your business more efficiently.
In this article, we'll look at some of the benefits of using a group email service and what they can do for you.
What is a group email?
Imagine a world where you can send an email to clients, customers, colleagues, members, family and even friends in a single click!
With group email, you can do just that. But what is a group email and how can it be useful?
Your group email list can be created when multiple users are subscribed to the same email list.
This email distribution list can then be used to promote your company's product or service and share your latest newsletter or content all in one go.
Benefits of using a group email
Managing large groups of contacts
Managing multiple workflows
Scheduling emails
Group emails are an extremely effective way to communicate with your network and build relationships. Keeping people up-to-date on what's happening in your business, and helping you stay in touch with your community.
Common uses for group email
Inform customers about new products and promotions
Send out newsletters with company news and updates
Communicate with colleagues in other departments
Notify employees about upcoming meetings
There's no denying that It's a great way to get your message out there, but it's also important that you choose the right audience for your group email.
If your message isn't relevant or interesting enough for the people on your list, they won't open it and may delete it without reading it.
Want to know how to avoid this?
Many businesses now use group email services as part of their email marketing tools but finding the right service can be hard. In our next sections, we'll show you how to get the best out of a group email list and top group email marketing tools.
5 reasons why you should opt for a group email list
As a successful business, you know that communication is key and building relationships with customers is essential.
The easiest way to do this is opting for a group email list that will allow you to:
Build a rapport
Generate leads
Create brand awareness
Send/receive feedback
Whether you have a business or a cause, odds are you have a group email list at your disposal.
So you're all set and you've created the perfect email marketing campaign geared toward the right audience, and you're ready to blast it out to your subscribers.
But have you ensured that your subscribers are going to receive your emails?
If not, they will bounce and end up in the trash/spam folder, which will hurt your chances of a decent ROI.
Here is some important advice and available features of Simplelists email management software to ensure your emails are delivered, rather than thrown away.
If you're short on time and would prefer to watch it, have a look at our short video explaining Simplelists group email features.
1. Automated and free email list management
List management is a crucial and challenging aspect of email marketing. It can be as simple as having a few email addresses, or as complex as managing a database of thousands of subscribers.
For many businesses, managing your own group email list is not only cost-effective but also gives you complete control over the data. However, it's not always easy to set up and maintain an efficient mailing list management system.
A useful feature to have is automated bounce processing and removal from your database.
This means if someone unsubscribes from your newsletter or sends back an undeliverable message (bounce), you are notified and this is then handled automatically by the service. So you don't have to worry about manually removing them from your list anymore, keeping delivery rates high!
The advantage of an email list manager is that it allows you to have a clear overview of your subscribers and manage your lists more efficiently. Keeping track of your contacts, filtering them according to their actions and interests, and managing your list to send out the right messages to the right people at the right time.
You should also be able to automatically forward your emails to other people or groups. For example, if someone clicks on a link in one of your emails, they can be automatically added to another list (e.g. if they want to receive offers about a specific product).
There are many reasons why you might be looking for automated email list management software. Whether it be to reduce manual work and focus on more important things or handle the influx of new subscribers.
2. Customisable group email list
A customisable group email list is an important feature to have in any business.
Email Marketing is a powerful marketing tool that can be used to build brand awareness and increase sales. However, you need to make sure that your email is personalised, consistent and relevant to each recipient.
In order to address these challenges, you will want to use an email list management tool that allows you to create customised email lists.
The biggest benefit of this feature is that you can have a customisable group email list. This means that you can add your own personalised footer or footer text, members' names, HTML for full customisation and so forth.
You can also choose to archive old emails which can be accessed in the archives section of your account. This is useful if you need to delete old emails or if you want to keep them as backups.
3. Full manage spam reporting
Spam is very common nowadays, so it is important to have a group email service that can handle your spam issues.
Not only is it annoying to have your inbox flooded with messages you don't want to read, but it also wastes time and money.
In addition to providing tools for sending emails and tracking their results, your group email list services should provide tools for managing your email lists in real time with automatic spam management.
This means that when your email is marked as spam by a contact in your list (whether deliberately or accidentally!), those addresses of people who have reported this are automatically removed.
They then will receive no further emails from the list and prevent them from repeatedly marking it as spam. Keeping your 'marked as spam rate' low, delivery rates high and your email list up to date on who wants to see and receive your valuable information.
Keeping your messaging consistent with clear brand design, tone and information will help to keep you out of the spam box or mass unsubscribing.
4. Subscribe and unsubscribe options
Email subscribers are a valuable asset. They're customers who have opted in to receive your marketing messages, giving you a direct line to them.
But if you don't have the right permission settings in place, you could be breaking data protection laws and putting your business at risk.
You want to make sure your subscribers know how they can manage their own subscriptions and communication preferences.
You need to give them the option to unsubscribe from your mailing list at any time. In the past, customers had to follow complicated processes to unsubscribe from an email list.
Today, this can be done by setting subscribe and unsubscribe settings, plus the ease of adding a customisable subscribe form to your website.
With these simple adjustments, you'll be in line with GDPR to give consumers more control over their data.
5. Private group email list
In business privacy is paramount, so having the function to create a private group email list is a must-have.
If you're sending out information about a new product launch, for example, it's important that only those who need to know about it get the information.
This feature allows you to create a private group where only you can see the members of your list. This is particularly useful if you want to send out information about a product pre-launch, private event or meeting.
With a private group email list, only you see their emails with no way for anyone outside of your organisation to see who else is on your list or what they are receiving from you in their inboxes.
This means that no one else will get access to your database and you can also remove members from the group email list whenever you want.
The best group email marketing tools
The email marketing landscape is constantly changing, nowadays, business is not just about selling products. Customers expect brands to provide value by sending them educational content or useful tips too.
You realise you need a group email marketing tool, and there are many tools out there to help you reach your audience. However, not all of them are created equal.
Some of them may seem too complex for your needs or too expensive for your budget. That's why we've put together this guide to help you choose the right tool for your business.
What makes one group email marketing tool better than another?
The answer is simple: features and usability. Here are some features we consider when reviewing them:
Easy to use
Integration
Limitations
Automation
Customisation
Data
Support
Price
This list will help you find the best email marketing software for your business needs:
Simplelists
Simplelists is easy to use and has an intuitive interface that makes creating lists and sending emails a snap.
Simplelists is a user-friendly email marketing tool that allows you to quickly create lists and send emails to your subscribers. It also has a responsive design, so it works well on mobile devices — especially important in today's world where mobile internet usage continues to rise year after year.
Intended to be both affordable and powerful, you can create a list in minutes and send an email campaign, promotion, newsletter or discussion group in a matter of seconds.
Our features are so simple, anyone can use them. No technical knowledge is required!
With all Simplelists subscriptions, you can easily:
Manage members / list import
Set restrictions
Customise emails
Control subscriptions
Message scheduling
Integrate with your website
Archive emails
Automated list management
Spam & bounce management & feedback loops
Keep emails and contacts secure (ISO27001 certification)
View data and analytics
Whether you want to send a single list or multiple, Simplelists plans range from $8 pcm for a single list to $686 for enterprise-level and plenty of affordable packages in between.
They have a super-friendly and responsive support team that can help you with anything from getting started to managing your account.
Listserv
Listserv is an email list management solution, offered as an in-house software or cloud service.
Listserv allows users to manage email communications such as alerts, newsletters and discussion groups from a central interface.
Providing flexible licensing to meet current and future business needs, Listserv have technical support to help you get your group email list running smoothly.
With Listserve you have:
Manage members
Set restrictions
Customise emails (not with the basic plan)
Control subscriptions
Message scheduling (not with the basic plan)
Integrate with your website
Archive emails (restricted with the basic plan)
Automated list management
Spam & bounce management (restricted with the basic plan)
View data and analytics (not with the basic plan)
Listserv offers perpetual and annual licenses with three plans available, Lite (perpetual only), Classic and HPO. Starting from $1,095 - $4,485 for annual licenses or $2,875 - $28,060 for perpetual.
GroupMail
GroupMail is a free email list and mass email newsletter software.
An easy-to-use group email messaging system that's great for newsletters, event planning, personal announcements, and more.
You can download their free software to begin sending in seconds. With varied, one-time paid software subscriptions you're able to:
Manage members/ list import
Set restrictions
Customise emails (marketing plan only)
Control subscriptions
Message scheduling (not with the basic plan)
Archive emails
Automated list management (not with the basic plan)
Spam & bounce management (not with the basic plan)
View data and analytics (marketing plan only)
GroupMail also has the possibility to be installed in English, Spanish, French, German or Polish and the added ability to create autoresponders. They have three packages ranging from $149.95 to $699.95 excl VAT.
Conclusion
After reading and exploring features, requirements and price plans of group email marketing tools, you'll notice that when it comes to effective marketing, sometimes the best option is the simplest one.
In short, there are a lot of reasons why you should (and probably will) use a group email list. Not only are they easy to set up and maintain, but they'll also help get your content in front of a larger audience than ever before.
Whether you run an online store, a work-related business or a creative hub, using an email list can help you really make the most out of it.
So what are you waiting for?
Want a group email list to get your business to the next level?
Sign up for Simplelists free one-month trial now!