Posted on May 8, 2015
Simplelists is a group email manager that allows you to send emails to a group of people using one email address. In this blog post, we list five reasons why we think using a group email service like ours is a good idea.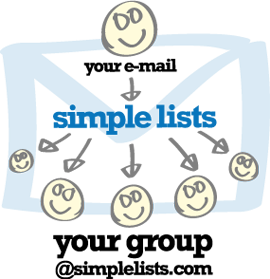 1. You don't need to remember everyone's email address
With a group email service you use a single email address for a group of people. The group email service then forwards the email automatically to your group. This gives you an easy way to contact your group because you don't need to remember everyone's individual email address.
2. You can customise and manage your email list easily
Email programs like Microsoft Outlook require you to maintain your email list manually. This means that you need to spend time updating and checking your list before each email. If you have a list of contacts who have given you permission to contact them, you can upload this list to the group email service. Alternatively, people can sign up to the list on a website, using a subscribe form. You can also moderate your list, choosing whether to allow anyone to email your list, or have a closed list so that you can decide who can post to it (read more on moderating your list effectively).
3. Your emails get delivered
Many Internet Service Providers (ISPs) limit the number of addresses that you can send an email to. It might be 100 or 500, or there may be a cap on the amount of data that you can send at once. It is also becoming more common for people to report emails as spam, even if they signed up to a list in the first place. A group email service will fully manage spam reporting for you, ensuring that your emails continue to get through.
4. You adhere to privacy laws
If you are sending emails to large groups of people, it is now a legal requirement to include an unsubscribe link in every email. This gives you group members the opportunity to 'opt out' of receiving further communications from you, should they wish. If you use a group email service, this option is included automatically in the emails you send.
5. You have some great, private discussions
If you're using the list to set up a discussion group, we think that using a group email service like Simplelists is better than other options out there. It is important to know that the content of your email is private and that you ultimately own the content that you share with the members of your list. This is not always the case with other services like Facebook for private groups (read more about why this is the case). The Simplelists privacy policy clearly states that:
"all data, including emails, list content, subscriber lists and any list information, is the express property of the account owner and/or the author of a particular message".
Interested? Sign up for a free one month trial of Simplelists.
Tags: