Posted on Oct 1, 2018
We have written on this blog before about the importance of email deliverability and what we do to ensure your emails reach their recipients. Spam filters implemented by different email clients (Gmail, Yahoo, Hotmail, etc.) are becoming increasingly sensitive, to make sure that non-legitimate, spam emails aren't delivered. Ensuring emails are delivered to the inbox is pretty much guaranteed if your list members have 'whitelisted' you. This means, simply, that you (as the sender) have been added to their list of 'approved' or 'safe senders'. Different email clients carry out the whitelisting process in different ways and use different terminology. In this short post, we explain how to whitelist email addresses in Gmail.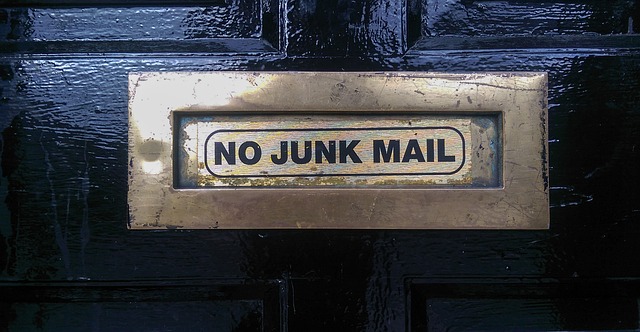 'Safe sender'
Gmail is pretty efficient at identifying non-important and potentially harmful emails that you probably don't want to open. However, it isn't 100% correct all of the time and, to make sure important emails never end up in the Gmail spam folder, you can tell Gmail that emails from a particular sender are safe, allowing those messages to pass through the filter. If important emails keep getting sent to your spam folder in Gmail, you need to add email addresses to the safe senders list to whitelist them.
Set up a filter
In Gmail, it is possible to set up 'filters' to whitelist a sender (or senders). You can apply a filter to a specific email address, a whole domain, or a mix of both. First of all, click on the gear icon in your inbox and select 'Settings' from the menu. Then, select the 'Filters and blocked addresses' tab when viewing the Settings menu. Click the link called 'Create a new filter' (if you have a lot of filters in place already you'll see this at the bottom of the list, like in the diagram below). Select 'Never send it to spam'. This will make sure emails that match the filter description will always reach the inbox.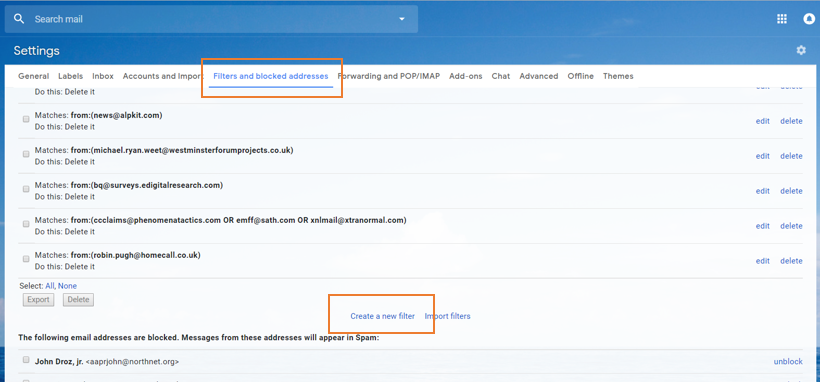 Filtering a specific email address or a whole domain
In the 'From' field, enter the email address in full that you would like the filter to apply to. If you want to filter a specific email address, write the whole address, like 'johnsmith@emailbusiness.com'. If you want to whitelist all emails from a specific domain, you can just type '@emailbusiness.com' to put all emails from this domain on the list of safe senders. There are other options but the 'From' field must be filled out.
Filtering more than one email or domain
You do not need to repeat these steps for multiple emails and/or domains. A handy tip is to put a vertical bar (Shift and then the backslash '\' key, with a space before and after it) between the separate emails you wish to filter. For example: johnsmith@emailbusiness.com | janesmith@emailbusiness.com | simonsmith@emailbusiness.com.
Alternatively...
You can also filter messages directly from an email as you receive it. So, if you find an important email in your Spam folder, which should have come to the Inbox, you can open it and then apply the filter so it ends up in the right place next time. When you have the email open, click on the vertical dots in the right hand corner and then select 'Filter messages like these' (see below).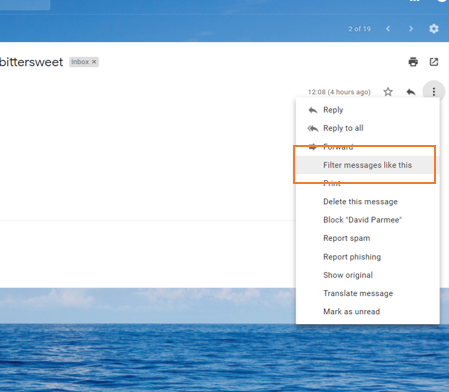 The email address of the sender will then be auto-filled in the next form in the 'From' field and you can create a filter from there, as before.
Don't forget
It is worth knowing that when you whitelist an email or domain in Gmail, the filter does not work retrospectively. That is, it does not apply to emails that are already in the Spam/Trash folders.
Tags:
---
Posted on Sep 10, 2018
When you send emails to your list using Simplelists it is possible to insert members' names into the emails. This personalises the message and allows recipients to see their name in the short email preview they may see in their inbox. This short post explains how to use this feature.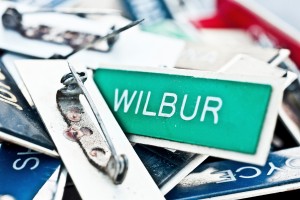 Activate the feature
First of all, activate this feature for your Simplelists account by sending an email to support@simplelists.com to request the 'activate the insert names feature'.
Enter the correct text when composing your message
When you write your message to your list, insert $FIRSTNAME in your email in the exact place(s) you would like the member's first name to appear. If you want their surname to appear as well, write $SURNAME where you want this to be.
If you do this, each member of your list will received a personalised email which includes their name.
An example
Dear $FIRSTNAME,
Thank you for joining our group. You will received monthly updates and...etc. 
If you don't know their name
If a member's first and/or last name is not included in your address book, you can request your preferred default name to be used instead. When you contact us to activate the 'insert name' feature, let us know your preference for a default option. For example, you could choose 'Member', 'Customer' or 'Group Member'.
If you do this, in a case where you didn't know the first name, the above example would read:
Dear Member,
Thank you for joining our group. You will received monthly updates and...etc. 
When should you use this feature?
Personalising emails is recognised as increasingly important for email marketing. For example, many mail clients show the first 10-20 words of a message in the inbox before the email is opened. At a glance, readers can therefore see immediately whether an email addresses them by name or not. If their name isn't there, they may be more tempted to delete the message as they would deem it unimportant or irrelevant.
For this reason, we recommend that you use the 'insert name' feature in all your email marketing messages. Even if you are not using your emails for marketing purposes, inserting members' names will help people to engage more with your list and feel a sense of involvement in the group.
Tags:
---
Posted on Jul 17, 2018
If you're using Simplelists for email marketing, you should be aware that segmenting your email list is one of the best ways to boost the effectiveness of any email marketing campaigns that you run. This is because you can ensure that the email suits your client's specific interest(s) and increase the likelihood that they open your email and respond to your call to action.
If you are using Simplelists for private groups discussions, you may already be pretty familiar with the segments of your list. If it's something you want to think about some more, or run a specific marketing campaign, here are four tips for email segmentation to help you get the results you want.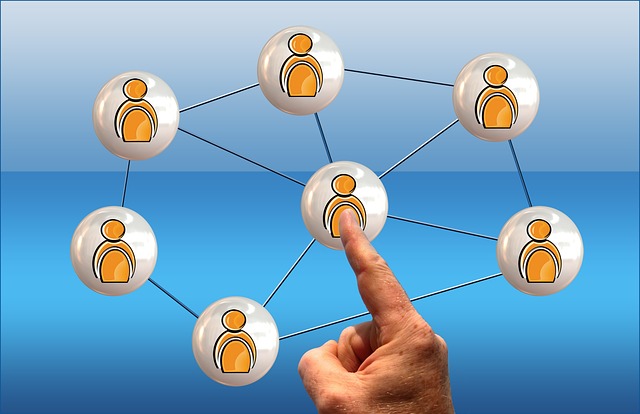 1. Split your list into groups that are alike
Your email recipients aren't all alike and there are very likely to be groups (or segments) that exist in your list. Are there age groups that might respond differently to your call to action, or are there particular interests that you could focus on? Each group will need its own email stream with content that suits the reader. Common groups tend to fall under four headings:
geography (location, language, climate, etc.);
demography (age, gender, income, etc.);
psychology (lifestyle, opinions, values, etc.); and
behaviour (purchase usage, buyer stage, user status, etc.).
2. Recognise that there are stages at which people interact with you
Your list members will require different information, depending on how long they have interacted with your business/activity. For example, someone who has visited your website once and subscribed to your email list will need different information to a long-term customer who is very familiar with your products and/or activities.
3. Build credibility
Segmenting and personalising your emails shows the recipient that you are interested in more than just selling to them. Instead, you take the time to get to know them as well as looking into their needs and interests.
4. Go beyond the obvious
You don't need to think only about people's interests now and what other groups they fit into at this time. You could have a think about what they might aspire to them in the future with regards and goods or services that might appeal to them. You could also think about using 'negative data' i.e. if they prefer one brand, they might be likely to be disinterested in another.
Tags:
---
Posted on Jun 10, 2018
You are no doubt aware that the European General Data Protection Regulation (GDPR) came into force on 25 May 2018. Your inbox was probably full of messages from the various organisations and groups that hold your contact details, checking whether you still wish to receive messages from them and/or updating you about their privacy policy. Our members received an email explaining how Simplelists is complying with the regulation and we have shared that information here on our blog as well.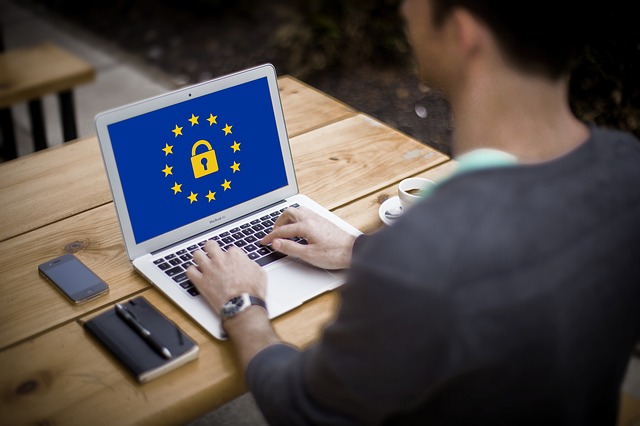 What is GDPR for?
The regulation aims primarily to give control to citizens and residents over their personal data and to simplify the regulatory environment for international business by unifying the regulation within the EU.
Who is affected?
GDPR affects Simplelists customers either based in the EU and/or who have list members in the EU.
What has Simplelists done to comply with the legislation?
In order to comply with the legislation, and to also to make it easier for our customers to comply with it, we have updated our Privacy Policy and Terms & Conditions. The new documents are available on our website in the footer of every page. As a general rule, the updates strengthen your rights, but if you do have any questions about the changes then please let us know. You can find our contact details here.
What do Simplelists customers need to do to comply with the legislation?
We have also added a GDPR Statement to our website, which will provide more information as to our compliance and how we can help you to comply. This statement is also available from the footer of every page on our website.
Simplelists provides email list hosting services to its customers, and as such is responsible for the secure and compliant processing of personal data related to our customers, as well as the protection of our customers' information (which may include personal data) whilst it is being processed by one of our systems.
We believe that the new documents should assist those customers that do need to comply, but if you have any specific requirements or general questions, then please get in touch.
Tags:
---
Posted on Apr 29, 2018
When you contact the members of your email list, it is likely that your message will include a link to a page on a website designed specifically for them to read more, subscribe and/or visit email archives - this is called a 'landing page' and these can be generated automatically using Simplelists. So that the page that they land on looks correct and does what you need, you may want to make sure that your list members see your branding or logo when they click through. In this post, we explain how to customise your landing page and share some other top tips for making the landing page 'perfect'.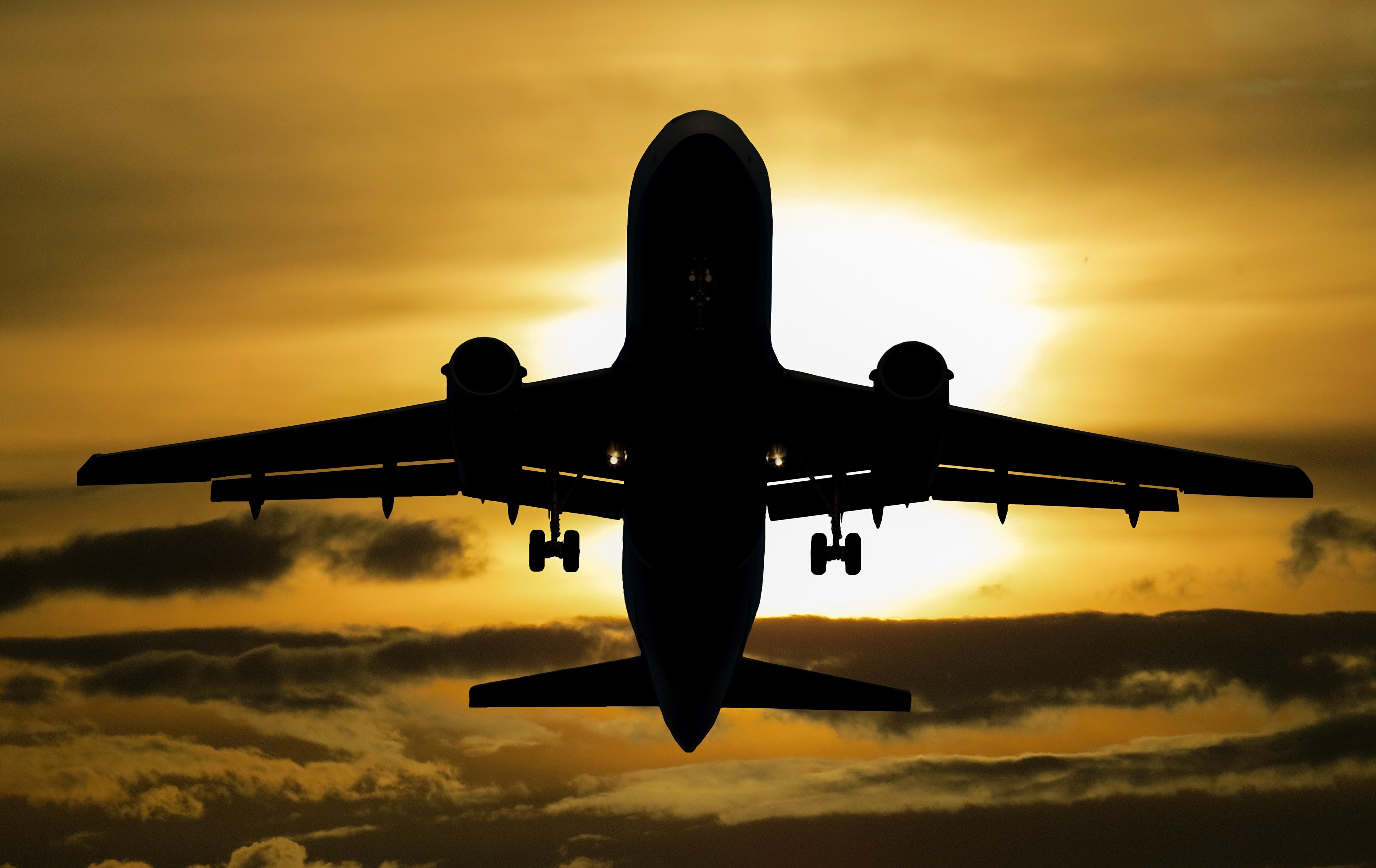 Use your own logo or branding
To replace the Simplelists branding with another image, copy the web address of the image that you would like to use instead. When logged in to Simplelists, navigate to the 'General Settings' menu and paste the web address of your image into the custom image field. Click 'Update Settings' and you should see the message 'The settings have been updated successfully'. Refresh/reload the page and you should then see your own branding. You can also watch these instructions in a short video.
Top tips for marketing landing pages
If you are running an email marketing campaign, have a think about what you want to get from your landing page when your members visit it. For example, do you want to persuade the visitor to click on another page (click through), buy a product, or gather data from them (lead generation)?
Don't link to your home page
A good landing page will generally be a separate page that is distinct from your website (i.e. not just to the home page) and it will tend to have no navigation menu and be accessible only from the link in the email.
Use a snappy, concise headline
The title of the page will be the first thing that visitors read so make sure that it is near the top of the page and large enough to be obvious. Make sure the title is relevant to the content of the email they have come from.
Use an image or video
An image or short video is a great way to make an immediate good impression and also entices people to read what follows. Put the image/video near the top so that people don't have to scroll to see it.
Check your colour scheme
Different colours generate different emotions and feelings when people see them. Try to match the colours in your image/video to what you are doing. Blues tend to be associated with trust and stability, while red emulates energy, strength and passion.
Break up your text
It is a good idea to use sub-headings to break up the text on your page. This makes it much easier for people to read and directs them quickly to the topics of most relevance to them.
Make the call-to-action obvious
Whatever you hope that your visitors might do (subscribe, buy a product, click through, etc.), make it clear and easy for them to do so.
Make sure mobile users have a good experience
Finally, don't forget that the majority of visitors may well be using a mobile device. So, make sure the landing page can be viewed well on a range of devices. If it is not an option to make the page responsive, at least make sure it works OK on phones and tablets. This is definitely important if you want your visitors to fill in a form or make a purchase.
Tags:
---
Posted on Apr 4, 2018
Simplelists keeps a record of all of the emails that have been sent to your list. This archive can be useful for new list members who might need to quickly get to grips with topics that have already been covered in a private group discussion. It is also a great tool for keeping a back up of all of your communications. If you haven't already, you can learn how to set up, view and personalise the archive in a recent post on our blog. Below, we explain how to search your email archive, allowing you to find old emails using a keyword search.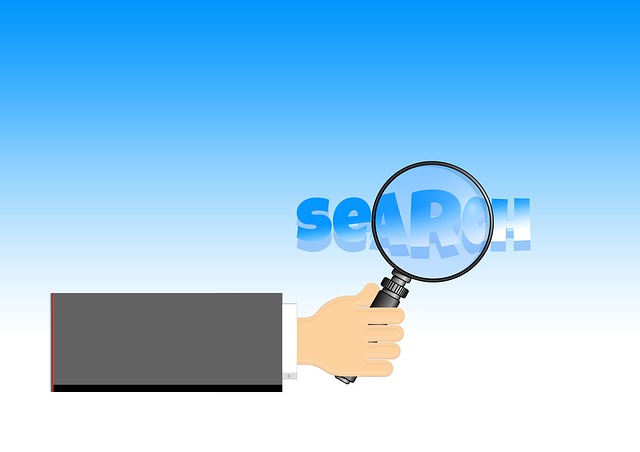 Finding the right message in a busy list
Busy lists that have existed for a long time can accumulate thousands of emails over many years. When new members join a list, they can be granted permission to read emails that were sent before they joined, and access old emails about a specific subject. To do this, the Simplelists email archive has a keyword search function that allows you to look for old emails by keyword. You can also browse all messages by date or by thread.
Accessing the archive
You can find the archive search function from the Members Home page once you have logged in to your Simplelists account. Under 'What would you like to do?', click on 'View list archives'. If your list manager has set up a password for accessing the archive, you will need to enter this. Otherwise, you can request an access code by entering your email address.
Once in the mail archive, messages are grouped by month and year, with the search box at the top. Type in your keyword and the relevant emails will be displayed. On this page, you can also view list statistics and read more information about your list.
Search tips
We all know how to use a search box but these tips might come in useful if you're not entirely sure of the best keyword to search for:
Wildcard '?' - Type the ? symbol and it will be replaced with any single character. This is handy when you're not sure how a word should be spelt. For example, you might be looking for an old email titled 'Worthington Event' but you had forgotten if 'Worthington' was spelled with an 'o' or a 'i' you can type 'W?rthington' and the results will show emails with both spellings.
Wildcard '*' - Type the * symbol and it will be replaced with any number of characters. Using the previous example, if you weren't at all sure how to spell 'Worthington' you could type 'W*ton'. The search results will show all emails that start with a 'w' and end with the letters 'ton', including 'Worthington'.
You can also search by keyword for specific months. Browse to the month of the email that you are looking for and then search while in that month. The search will geneate results only for that month.
Tags:
---
Posted on Mar 6, 2018
Simplelists is designed to be quick, easy and simple to use. It also has a selection of powerful features for users who want more from their email management software. People who sign up to Simplelists do so for many reasons. They may want a way to manage group email discussions, use email for marketing purposes, or send regular updates and other information to list members. We are often asked what Simplelists can do, so this short post is a reminder of our features.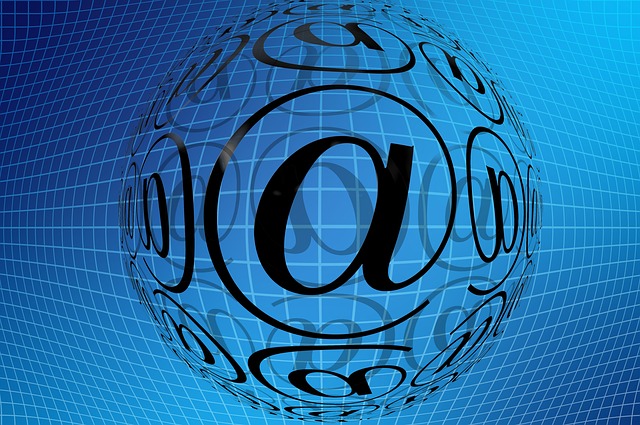 Manage members
Add members to your list You can add members to your list in bulk from a spreadsheet or .csv file. You can also easily download your list members' email addresses to a spreadsheet.
Set posting permissions You can select who can send emails to your list. This can be: all members, selected members or just yourself.
Manage replies You can decide whether replies are sent to the whole list or just to the person who sent the original email.
Set restrictions
Moderate messages You can choose to hold messages for approval before they are sent to your list
Restrict email size You can limit the size of emails, strip attachments from emails, and more.
Control list viewing You can keep members' names and email addresses hidden or let them be seen by other members.
Customise your emails
Add a personalised footer You can do this to personalise your email and include information about you or your company/group.
Include HTML You can include HTML in your emails, enabling you to customise your emails.
Include members' names You can personalise your emails by automatically adding members' names at the start of an email.
Archive emails You can archive all emails - they can be accessed from a custom website at any time.
Daily digest summaries These can be useful for busy lists. Instead of receiving emails when they are posted, members receive one email every 24 hours.
Control subscriptions
Set subscribe and unsubscribe options You can choose whether new members can join your list, and whether this requires approval.
Add a subscription form You can add a subscribe form to your website. It is fully customisable, so you can change it to match your website perfectly.
Integrate with websites
Brand your landing pages On all landing pages you can replace the Simplelists heading with your own logo or branding.
Synchronise your account with websites An API is available, which allows you to synchronise your Simplelists account with other websites.
Integrate emails with your domain A multiple list account can be integrated with your domain so that users receive emails from your domain, rather than Simplelists.
Automated list management
Notification of bounced emails When an email to one of your members bounces, you will receive a message to let you know.
Automatic processing of bounced email addresses List members with emails addresses that bounce emails repeatedly are automatically removed from your list, saving you time.
Automatic spam management If a list member marks your email as spam, they will automatically be removed from the list. This ensures that repeated emails are not marked as spam, which keeps delivery rates high.
Tags:
---
Posted on Jan 30, 2018
We provide a group email manager that allows you to send emails to a group of people using one email address. We think using a group email list is a good idea for a range of reasons, including the ability to have great private discussions that are delivered to group members effectively in a manner customised to match to the preferences of each person receiving messages. Many organisations like to foster community and information sharing using email discussion lists - while discussions are usually straightforward when everyone is in the room, things get more complex when everyone can't be in one place at one time. In this post, we explain how an email discussion list (or 'listserv' works) and what benefits it offers to its members.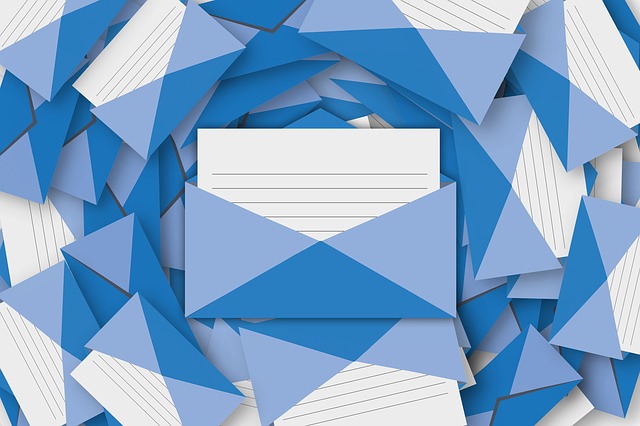 How it works
People subscribe to a discussion list (normally online - see how to add a subscribe form to your website) or via email. Any subscriber can then post to the list by simply emailing a specific, automated address. Permissions can be set so that only certain people can post to the address, if that is most suitable, or to ensure that all messages are held for approval (moderation by an administrator) before being distributed to the list. A list manager (one or more people) is normally in charge of the list and tends to be knowledgeable of the topic that the list discussion covers.
Personalising the process
Subscribers can also personalise their experience with the list - perhaps a format preference (plain text or HTML), how often they receive emails and whether they receive a digest summary of the latest posts (rather than receiving them all individually as separate emails). It is also possible to customise how the email looks, incorporating a company logo or pointing users to a bespoke landing page that is part of your own website.
Ensuring the message is delivered
It is well-known that most Internet Service Providers place limits on the number of email addresses that you can send an email to. This means there may be a cap on the amount of data that you can send in one go. People can also report emails as spam, even if they signed up to the list, and this can affect deliverability. A group email manager can manage your spam reporting and make sure that your emails are delivered.
Who else benefits?
Email discussion groups can reach a range of people who  might not otherwise have access to an online discussion. Anyone who can send an email can take part and many people prefer receiving an email in their inbox to visiting a website to search for updates. Some research has found that over half of internet users subscribe to at least one email list, which is a lot more than those who subscribe to social media platforms. Emails are also preferable for people who have limited access to the internet, or slow internet connections. The discussion doesn't rely on real-time participation and emails can be downloaded, read and replied to while offline.
Tags:
---
Posted on Dec 29, 2017
HTML emails are formatted like a web page and can include colours, graphics, tables and links. Most emails that you receive from a shop/business that you subscribe to are likely to use this kind of email. Plain text emails are more like what you might expect to receive from a friend or in a typical work email. Before sending an HTML email to your list, it is worth considering the pros and cons of HTML and plain text emails.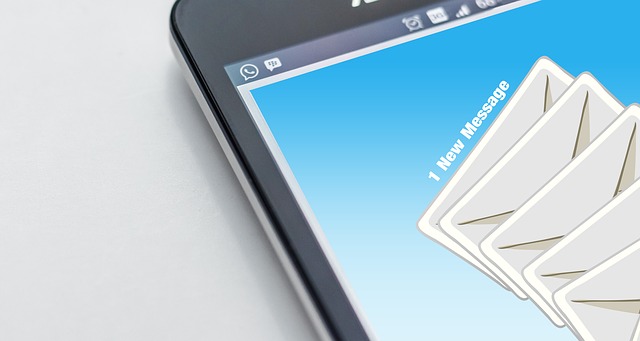 HTML or plain text?
HTML emails are colourful and eye-catching. You can include your company logo and make your email look professional. HTML emails can include images and make it possible to break the email into sections that are easy to read or scan. They can also include social media buttons. HTML emails are more likely to be blocked by some spam blockers, especially if they contain a lot of HTML.
Plain text emails are small and light, which means they use less memory and open more quickly. Plain text messages look less commercial and more similar to personal emails. It has also been found that a plain text email is more likely to be opened and clicked through, which is important if you are sending emails as part of a marketing campaign.
Creating an HTML email
First, you need to create your email as a single web page. There are a few special points to note when creating HTML for email:
Use tables to create the layout. Avoid using margins and padding and give the table's elements fixed widths. This prevents the email looking different in different email clients.
All CSS styles should be inline styles. Any CSS in the head or on external style sheets will be ignored.
Any images should have an absolute URL - they'll need to be on the server so they can be sourced.
Once complete, view your web page in a browser. First, check that the page looks perfect. Right click and select all and then copy. Note that you should not copy the HTML code. Copy the content of the web page.
Send the email
Open your email client and compose a new message to your list. Simply paste the email and hit send. Your HTML email will be sent to your whole list. Simple.
You can watch these instructions in a short video here.
Tags:
---
Posted on Nov 27, 2017
When you start to build an email list you may only have a few members. If this is the case, inputting people's details manually via the Simplelists members area is straightforward. When your list starts to grow, you may find it helpful to add a large number of subscribers at one time, from a spreadsheet. It is also useful to have a spreadsheet copy of all your list members for your own records. In this short post, we explain how to add members to your list from a spreadsheet.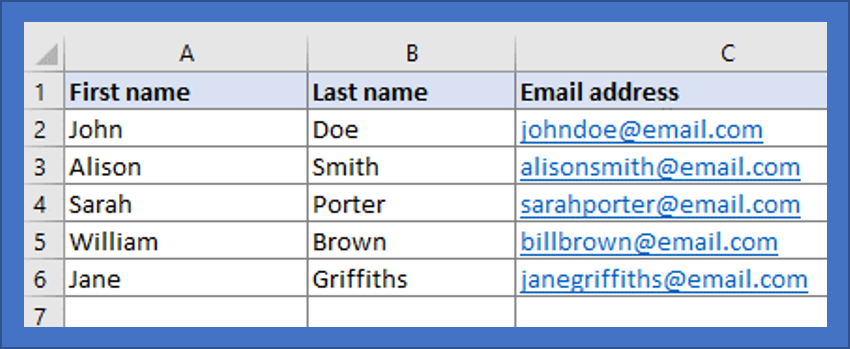 Prepare the spreadsheet
First, open your spreadsheet. Your spreadsheet only needs three columns:
First name
Last name
Email address
If a name is missing, don't worry as it can be left blank. You can also add notes in another column.
Remove any headers and titles from the spreadsheet (you may need to delete a row to do this). Your list is now ready to go.
Save as a .csv file
Save the file as a .csv file type using the 'Save As' dialog box in your spreadsheet program. You may be asked if you are that you wish to save as a .csv file. Just select 'OK' or 'Yes' when asked. Remember where you save your file.
Upload to Simplelists
Finally, you want to upload the file to Simplelists. Log in to Simplelists and select the 'List members' page. Click on the 'Upload file' tab and search for the file that you saved earlier. Make sure that 'comma separated' is chosen in the drop-down menu on the 'Upload file' page in Simplelists. Then, click 'Next'.
On the next screen ('Select fields'), select the correct field name for each column of the file (First name, Last name, Email address, etc.). Then, click 'Next'.
The next screen will show you some 'Upload options' which you can choose to select or not:
By default an entry's name will be updated when the email address matches an entry already in your address book. If you would also like to update the email address if the full name matches then please check this box.
Send confirmation requests to all addresses uploaded (except those already in the address book and already confirmed).
Delete current address book entries that are not in uploaded file.
When you have selected any options you wish to activate, click 'Finish'. The new members will now be added to your list. You can check that they have been added by viewing your address book from the 'Members home' page.
You can also watch a short video of these instructions in an earlier post on our blog.
Tags: