Using Simplelists - a group email manager - means you can send emails to a group of people via one email address. This is a great way to have private discussions via email in a way that ensures list members' preferences are adhered to (e.g. how frequently they receive messages). Lots of businesses and organisations find that sharing information in this way can foster community in the workplace. This short post explains in some more detail how the service works and what benefits it offers.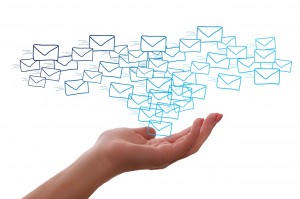 How does it work?
First, members need to subscribe to the discussion list. They can do this on a website (see an earlier post on how to add a subscribe form to your website) or via email. It is then possible for any member to post to the whole list by emailing a particular, automated email address.
You can set permissions so that only certain members can post, or enable an approval process so that each post needs to be moderated by an administrator before going out to the whole list (read more here about how to set permissions). Normally, you would have one or more 'list managers' who take charge of the list and tend to have a good level of knowledge about what the discussion is all about.
Making things personal
It is possible for list members to personalise how they interact with the list. For example, they might have an email format preference (HTML or plain text), or they might want to stipulate how often they receive emails from the list. There is also the option to receive a digest summary of the latest posts, instead of receiving them individually as and when they are posted.
You can also customise the email itself, perhaps including a company logo or a directing email recipients to a bespoke landing page within your website.
Getting through
Today, most ISPs (Internet Service Providers) have limits on the number of email addresses that you can send an email to. If you exceed the number, the email will not be delivered to the recipient. If recipients report your emails as spam, this can also affect whether or not the message gets through.
Within Simplelists, you can manage your spam reporting settings to make sure your emails get through.
Other benefits
A lot of people still prefer receiving an email personalised to their needs rather than visiting a website to search for information. Over half of all internet users subscribe to at least one email list. For those with slow internet connections or who work offline at intervals, being able to download, read and reply to emails rather than interact in real time can be a real bonus.